Monday, 26 August 2013
Posted by

this is my england
at 10:48
0 comments

Saturday, 24 August 2013
a thought occurred a little while ago: WHY NO WORD FROM STU BAGS? but who STU? well, until the spring of this year, it was my good fortune to be working in an office very close to where Camden-based street artist STU BAGS keeps obsessively returning to the same chunk of wallspace. this blog has explored his work there on-and-off since May 2011, when his mysterious use of the phrase THERE IS NOTHING TO SEE HERE first came to my notice.
now, more than two years later and using some very clever trickery, STU revisits that phrase:
Posted by

this is my england
at 00:49
0 comments

Consider this quote from a guidebook which accompanied me on my recent holiday: "
Exclusive, fashionable and upmarket, Albena is as well equipped and efficient as Bulgarian resorts come.
"
The small volume concerned, (Bulgaria Black Sea Resorts: Thomas Cook Pocket Guide - first written in 2007 and updated as recently as 2011) was authored by someone (a certain Debbie Stowe) who has surely never visited the place described in the passage above. Or possibly Ms Stowe attaches unconventional meanings to the words "exclusive", "fashionable" and "upmarket".
There is nothing wrong with Albena. The beach is long, wide and sandy, lapped by warm and shallow waters. The roads and paths connecting the various hotels, restaurants and other structures are tree-lined and pleasantly shady. But exclusive? Fashionable? Upmarket?
To visit Albena is to rub shoulders with working-class folk from around Central and Eastern Europe. Decent enough people to be sure. But nothing about the sunbathers and swimmers of Albena screams exclusivity. Quite the reverse, in fact. Presumably, the genuinely poor of Bulgaria and other CEE counties cannot afford a week or two in this Balkan sun trap. But Albena has a kind of Butlins vibe to it - a regimented factory system providing budget holiday opportunities to people of relatively modest means. The hotels are large and numerous. The place seems to be divided up into different zones, with groups of different nationalities having booked accommodation in different hotels. One place we pass seems to be occupied entirely by Romanians. Poles seem to predominate in a hotel complex a few hundred yards further on. Then we stumble across what appears to be a Slovak enclave. This is mass production applied to the business of taking a break from work.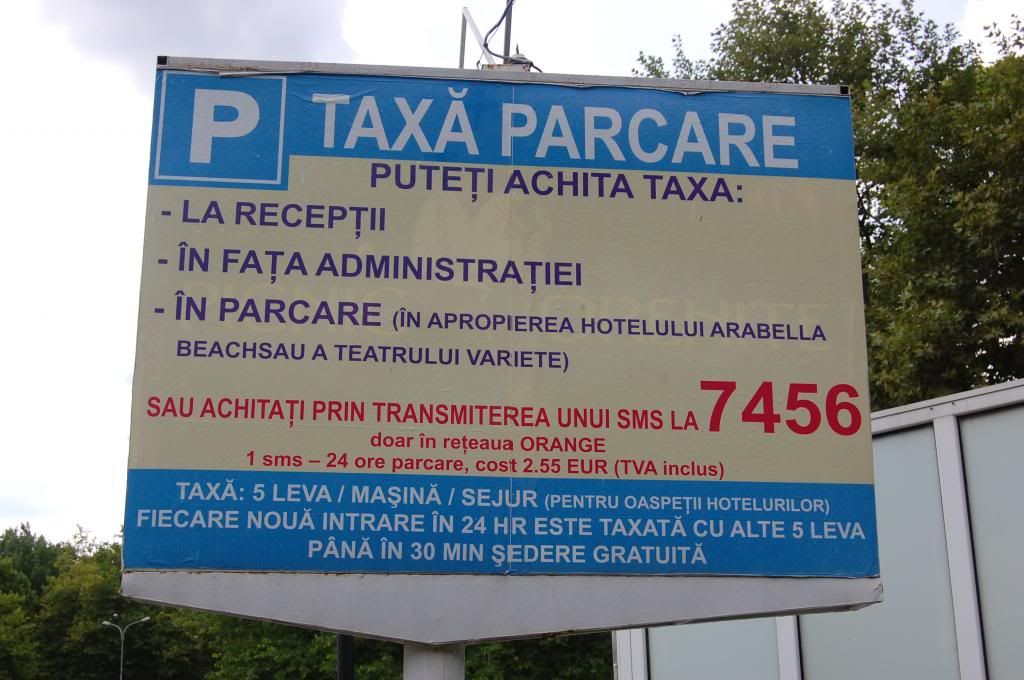 Albena: signs entirely in Romanian in one part of the resort
OK, so it's not exclusive. Is Albena
fashionable
, then? Something or somewhere can easily be fashionable without being exclusive, right? So
is
Albena fashionable? Perhaps it is. But only if pot-bellied Russian dads working the too-small banana-hammock swimwear look have become arbiters of European fashion. Only if matronly mums (with big perms dyed extraordinary shades of burgundy or tomato soup) are achingly hip these days. OK, so it's not exclusive or fashionable, but has Albena somehow achieved upmarket status? Again, the answer must be no.
Our one proper exploration of Albena ended with a stop in something billed as a supermarket. But it was nothing of the sort. Instead, I was reminded of the stated-owned (or cooperative) shops in which I used to buy my groceries in Poland in the early 1990s. A hangover from the pre-1989 centrally planned economy. I remember them well. The goods were kept behind counters staffed by variously indifferent or slightly hostile ladies. Choices were limited and, at busy times, queues grew restless and impatient. It was a very good way to accelerate my learning of basic vocabulary and transactional language. I was briefly transported back in time to those long-ago shopping experiences on entering Albena's so-called supermarket, so similar was the appearance and atmosphere of the shop. Nothing upmarket about it.
Nowhere in Albena, in fact, did the eye rest on anything one might reasonably describe as upmarket. I wandered into a hotel lobby to use the ATM there. The place looked clean and reasonably well-kept. But upmarket? No.
The budget look and feel of everything was pervasive - from the slightly run-down condition of pavements, fences, benches and the like to the extreme shabbiness of a small Luna Park area offering tired-looking dodgems, roundabouts and fairground games.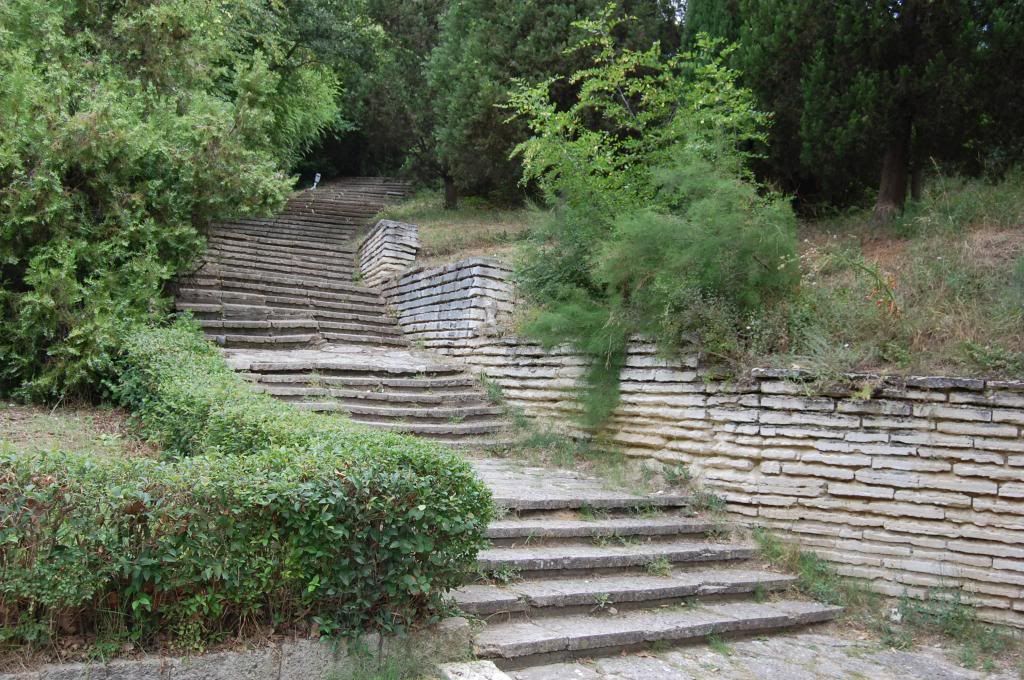 Albena's paths: cracked and weedy
It was in search of such kid-friendly stimulation that we had wandered into Albena in the first place. The junior member of the family is currently in the throes of an absolute mania for thrill rides and the like. So much so, in fact, that as we explored the area around our temporary bolt hole in south-east Europe, we were incessantly reminded of how much more exciting the planned post-holiday trip to Chessington World of Adventures was going to be.
Along with roller coasters and their ilk, our son maintains a special place in his affections for mini-golf and crazy golf. So we sampled both courses on offer in Albena. Not to put too fine a point on it, both of them were shit. The first one we tried was comically bad. The greens were made of thin pieces of metal and were almost all unplayable. Very weird indeed. On the upside, I really enjoyed the Balkan folk music booming from the little hut where the clubs were handed out. I do dig that kind of thing.
Mini-golf, Albena style
None of this is meant as a piss-take. I'm not sure that every west European visitor to a place like Albena would see it for what it is - a pretty decent holiday option for the people to whom it caters. But that's what I saw in Albena and it pleased me to see it. Because I can draw on memories of being in places most of whose residents would surely appreciate what this Bulgarian resort has to offer.
Almost twenty years ago, I spent ten months living on the edge of
Osiedle Świętokrzyskie,
a vast housing estate on the north-eastern fringe of Kielce, a middle-sized Polish city. While I know that conditions there have improved for many people in the years since I last saw the place, I understand that the standard of living for many more of my former neighbours remains well below what we are used to here in the UK. As I walked around Albena in the sunshine, I found myself thinking that the place would seem like a very attractive holiday destination for many of Kielce's residents. No sooner had that thought popped into my head than I saw evidence of Kielce folk having visited - a sticker bearing the name of Kielce's main professional football club. I also thought a little about Lovech, the seemingly waning Bulgarian city which we had visited on our way from Sofia to the Black Sea coast. Lovech, too, I thought, must be home to many people for whom a week or fortnight in Albena must seem like a very welcome prospect.
No complaints, then, about Albena. It is what it is. Long may it continue to offer what it does to those who enjoy the place. But that Thomas Cook guidebook? That really is a piece of crap. Its description of Albena is so inaccurate as to beg the question of how the hell it was written. My money is on a copy and paste job from something issued by Bulgaria's state tourism authorities. Given that our Thomas Cook pocket-sized Sofia city guide also contained some strikingly poor descriptions of major sights in the capital, I would urge all readers to treat that company's guidebooks with extreme scepticism.
Evidence of Korona pany at large in Albena
Posted by

this is my england
at 00:06
0 comments