Watch out, Roy Hodgson. Belief in your ability to guide England to World Cup glory is not universal. Someone out there is sure you're not the man for the job and that you may vacate the hot seat even before the great Brazilian party kicks off in summer 2014. Yes, Roy, you have a stalking horse. Someone is waiting in the wings, expecting you to fail and already campaigning to take your place.
Who could it possibly be? Pardew? Redknapp? Guess again. The person most determined to by England's next manager is Ms. Tara Stout, a former sports journalist from South Wales. She's never managed a football team at any level and there's the small matter of her not being male. So, were the FA ever to give her the job, it would be a truly ground-breaking appointment.
You think she's joking? You might just reconsider if you met her. Sitting outside a cafe on London's Gloucester Road, Tara outlines her plan with incredible passion and seriousness, albeit with regular bursts of infectious laughter. She also readily concedes that as her campaign unfolds, she expects to encounter disbelief and derision. She knows her ambitious plan will be treated as a joke and laughs once again at the suggestion that surely this is all a comedy project, or an extended piece of performance art, rather than an earnest endeavour.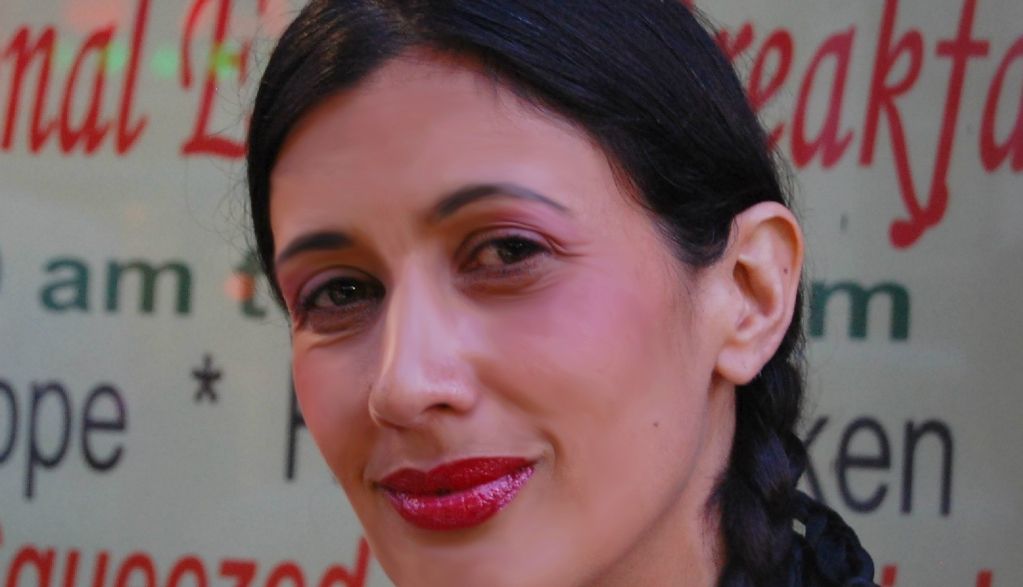 Tara Stout - England's next manager?
But Tara is used to doubters. When she describes her freelance sports journalism gigs at the likes of 5 Live,
ONdigital
and Sky Sports, she talks of being set up to fail but managing to get the job done despite others willing her not to succeed.
In these roles, Tara got plenty of opportunities to gain an understanding of footballers and football managers, it often being her task to attempt to draw out interesting answers from her interviewees. When setting out her credentials for Roy Hodgson's job, she emphasises the value of the insights that she says she gained into the mindset of the modern professional player and gaffer.
But what else would she bring to the job? She is quick to list a number of qualities that she sees as so crucial that they more than mitigate for her lack of experience and obvious credibility. One of these, she says, is an incredible will to win. She recalls interviews with managers of the Premier League's less glamorous clubs, in which the boss speaks of not expecting to beat the big sides. "I don't get it!" she exclaims. "Every team should be aiming to win every game! Every team should be given the belief that it can win the title". She then scoffs at suggestions that this is unrealistic and that it is simply prudent for most clubs to play the percentages and focus on the games that really are winnable.
So does she think that England would win the World Cup under a Tara Stout regime? "Absolutely," she grins. "I'm doing this to get the trophy. No shadow of a doubt." She contrasts this with less ambitious talk from Roy Hodgson and believes that the current England boss is effectively planning for failure and mediocrity.
When speaking about Hodgson and his various predecessors, she also bemoans the expensive contracts in which the FA has become entangled. "That would be another great reason to give me the job," she explains. "I'd take it on a freelance basis. I always worked on that basis as a journalist and I used to turn down offers of a more secure role. I preferred the freedom of freelancing and the sense of being kept constantly on my toes, of constantly having to prove myself. I think the England job should be exactly like that."
Determination, a will to win, insight and flexibility - these, then, are the qualities that Tara Stout says she believes will win her Roy Hodgon's job some day soon. These attributes, she claims, will more than make up for a lack of experience and for the very obvious disadvantage of being a woman.
This all sounds completely insane, right? She's bonkers, you're thinking. The interesting thing is, while you're bound to start any conversation with Tara in exactly that frame of mind, her apparent self-belief is expressed so strongly and so consistently, you may find yourself wondering if maybe, just maybe, there might be something in what she says. After all, Tottenham were mad enough to hire AVB. QPR were crazy enough to sign Joey Barton. It is a funny old game, as Saint and Greavsie used to say. So who knows?
But aside from her gender and her unconventional professional background vis-a-vis a career in football management, might anything else hold back the irrepressible Tara Stout?
One handicap she may have to deal with is her somewhat chequered reputation in some football circles.
If you've been thinking that Tara's name is somewhat familiar to you, this will be because of some of her infamous past exploits. In 2006, for example, her name was cited in the divorce proceedings of football's Mrs. squeaky clean, Gary Lineker. Tara repeats now what she said then - that she and Lineker had exchanged saucy text messages but that nothing beyond that ever occurred.
Later the same year, Tara hit the headlines again. This time, she was found guilty of harassing the then Chairman of Crystal Palace, the perma-tanned Simon Jordan. It does not seem wise to repeat all of what Tara told this is my england about the former Glaziers supremo. After all, she herself points out that Jordan can be a tad litigious. So let's not get into the ins and outs of the case or the nature of her relationship with the outspoken mobile phone tycoon.
One thing that it does seem safe to repeat, however, is Tara's contention that the idea for her current campaign to be the England boss arose, to some degree, as a result of her dealings with Jordan. Throughout our conversation, she claims to have repeatedly asked the former Eagles Chairman to hand the running of the South London club to her. She felt, she says, that she would have done a far better job of it than he did.
A chat with the woman who wants to be England's next football manager? Hilarious and strange. You go along expecting a bit of a loon. But while her ideas are undeniably whacky and her stories are often hair-raising, it's difficult not to warm to this animated, interesting and genuinely funny person. It's no surprise, perhaps, that her CV includes a short stint in comedy as well as sports journalism, selling tequila in nightclubs, time in jail and a stint on the run among the gangsters of Marbella. But is the joke on her? Or might it be on all those who dismiss her crazy-sounding plans? England's next manager? Get down the bookies and put a few quid on. With odds as long as you'd doubtless get, you'd be mad not to have a little punt on the most determined candidate you'll ever meet for the job.